Equipment
In order to produce professional results, our students need professional equipment, as closely matched to the games industry as possible.
Workstations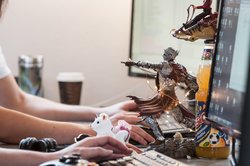 Students are assigned a fixed computer of their own on their first day that PlaygroundSquad provides, which comes pre-equipped with all the hardware and software you may need to get started. Students may further personalize their system by installing any applications they themselves wish to use, or bring in extra peripherals (a drawing tablet or another monitor are popular options) where they see fit.
Software
Development tools
Depending on what kind of person you are (or rather what discipline you study, but hey, we don't judge) you will likely use one combination or another of these programs we provide to students:
Artists and designers are being given Autodesk Maya, 3ds Max, Mudbox and MotionBuilder along with Adobe CS5.
Programmers are given Visual Studio and the latest version of Visual Assist X to supercharge their development.
That being said, all disciplines have access to all of the above software. It is not unusual that students dabble in a bit of everything.

Middleware
To help make student games more awesome in less time, the use of middleware is an important part of our education. We are happy to work with leading software companies and provide these to our students.
Some of the middleware in use at PlaygroundSquad includes:
FMOD Studio to make games sound beautiful.
Havok for a solid physics implementation.
Morpheme allows for animation with little fuss.
TenGine
Students are provided and educated in the use of our own powerful 3D middleware TenGine, with extensive platform support.
Services
You can't make kick-ass games with computers, excellent software, and network cables, even if that's a good start. PlaygroundSquad also provides an extensive set of services to aid in everyday life and during development of game projects.
Source control
Version control management is integral to any game project. Students take their pick between Mercurial, Git and SVN (although we're heavy Mercurial users) and host their code and art on an internal server powered by RhodeCode.
Automated builds
To ease multi-platform development and make running the game as easy as can be, PlaygroundSquad has its own internal build pipeline utilizing Jenkins and custom in-house software to let anybody run a game project build in just a few clicks.
Hardware
Our PlayStation First status gives students the opportunity to work on PlayStation platforms during both courses and game projects alike.

The facilities also includes a motion capture studio with equipment from Qualisys.